The Maryland Port Administration (MPA) reports trade flows through the Port of Baltimore's public marine terminals are rebounding from last year's recession impacted losses.  The data for the fiscal year ending June 30 show increases from FY 2008-09 of 26% for autos, 13% for pulp (which is used in the manufacture of facial tissues, paper towels, and napkins) and 2% for containers.  
The MPA further notes that general cargo tonnage increased by 8% from a year ago during the first six months of calendar year 2010.  General cargo is defined as containers, autos, forest products, roll on/roll off cargo (farm and construction equipment), and steel.  
The port's cruise business continues to show remarkable progress.  Cruise offerings tripled in 2009 to 81 from 27 in 2008, and passenger numbers reached an all time high of 167,000. This year, the MPA is expecting new records, with 91 homeport cruises and approximately 190,000 passengers.  Next year promises to be even better, with 112 homeport cruises from Baltimore already scheduled.
During CY 2009, the port's public and private terminals handled 22 million short tons of foreign trade worth $30.2 billion.  MPA terminals accounted for 7.3 million tons, a drop of 18% from 2008.  That included imports totaling 4.3 million tons (-23%) and exports of 3.0 million tons (-9%).  Key  commodities handled at the public terminals in 2009 included:  pulp (+1% compared to 2008); containers (-10%);  autos (-30%);  Ro/Ro cargo (-38%); and paper (-48%). 
According to the MPA, the Port of Baltimore generates about 16,700 direct jobs and 120,000 jobs linked in some way to port activities.   The port is also responsible for $3.7 billion in personal wages and salaries and nearly $400 million in state and local taxes.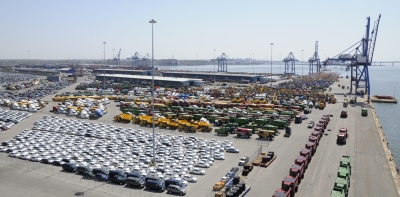 Ro/Ro activity at Baltimore's Dundalk Marine Terminal
Photo/Maryland Port Administration