The Port of Indiana Burns Harbor celebrated its 40th year in a big way- by handling the largest shipment of project cargo in its history.  The 134 complete turbine units were carried by 11 ships operated by Canada Steamship Lines and Flinter Shipping from various locations around the Great Lakes. The final two ships offloaded their cargo at Burns Harbor on October 21.  The turbines are being stored at the port pending delivery to their final destination in Bloomington IIL).
This year, the port also handled its first outgoing shipment of wind equipment - two ship loads of turbines manufactured at the Acciona Windpower plant in Iowa for export to Nova Scotia.
The port opened in 1970 and handled its first ship in May of that year, bringing to fruition more than three decades of determined effort.  In 1939, the Indiana Board of Public Harbors and Terminals was established to negotiate for land acquisition and construction of a public port on Lake Michigan. In 1957, the Indiana General Assembly appropriated $2 million for land acquisition for a port in Porter County. While the St. Lawrence Seaway officially opened up the Great Lakes to international ships in 1959, Indiana did not formally select a port site until 1961, and groundbreaking did not take place until October 10, 1966.
Since opening in 1970, Indiana's first port has grown significantly and now contributes about $3.5 billion to the state economy. The port also generates more than 25,000 total jobs and $1.5 billion in personal income as well as $490 million in local purchases and $146 million in state and local taxes.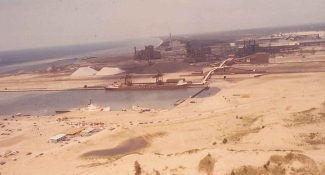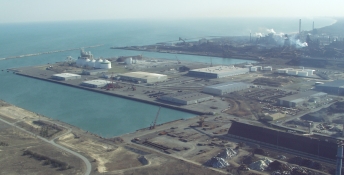 The Port of Indiana-Burns Harbor circa 1970 and as it looks today
Copyright © The Ports of Indiana