The Port of Galveston spearheaded the rise of Texas in 2009 to third place among states reaping the greatest economic benefit from cruise industry activity.  For Texas, that included over $1 billion in direct spending and 15,541 jobs paying $788 in taxes, according to a newly released report compiled for the Cruise Lines International Association.  The report further notes that "Texas was one of 10 states to account for 78% of the industry's direct domestic purchases and 80% of the total employment and income impacts."
Galveston, which serves as a primary point of embarkation for cruises to the western Caribbean, welcomed 484,000 passengers and crew visits in 2009, or 2.4% percent of all passenger and crew visits nationwide. These visits are estimated by the CLIA report to contribute $34.7 million in passenger and crew onshore spending, or nearly $72 per person per visit.
Next year Galveston will welcome three new cruise ships. The Carnival Magic, now in final stages of construction and due for delivery next spring, will offer 7-day cruises to the Caribbean out of Galveston starting in November 2011. Carnival Triumph will move to Galveston to operate year-round, running four and five-day Caribbean cruises starting the previous month.  In November as well, Royal Caribbean International will reposition Mariner of the Seas to Galveston as a replacement for the Voyager of the Seas in seven-night western Caribbean itineraries continuing through April 2012.  The port predicts these deployments will carry over 1.0 million passengers annually from Galveston.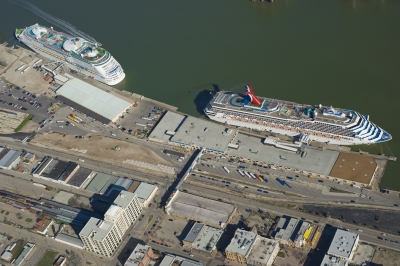 A busy day at the Galveston Cruise Ship Terminal
Photo/Port of Galveston